A day in Corsham, Wiltshire - Film Location for Poldark
Tuesday, July 04, 2017 10:40:00 AM
Corsham
There are some delightful places and hidden gems on the South-Western edge of the Cotswolds.
The other day, when travelling along the A4 otherwise known as the Great West Road, we stopped to explore the historic town of Corsham and were amazed at the wealth of 16th 17th and 18th century stone shops and houses built along its high street. We had a choice of places to eat but decided on stopping for a delicious lunch in a family run Italian restaurant called V I P before continuing our browse.
Because of Corsham's gentle olde-worlde character it has become a popular film location. We enjoyed looking at the buildings that had been used in the television adaptation of the historical novel Poldark written by Winston Graham. Although the novel was set in Cornwall, the home of Ross Poldark a British Army Officer returning from the American War of Independence, Corsham High Street was used to film some of the scenes.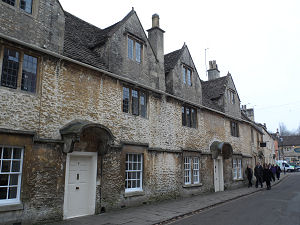 One of the many show-pieces of its main street, which became the backdrop for the Cornish city of Truro, are the 16th century Flemish cottages, built as homes for weavers who had come to the area as refugees during the early days of the wool trade.
We turned down Church Street and found more unexpected architectural treasures. On the left In Church Street, are the 18th century gabled weavers' cottages, with their ornate porches and a door on the first floor for taking in the raw wool. Further down on the left towards the gates to the park was an unusual 18th century folly built to look like a ruined medieval castle, said to have been built purely to screen the great house from the town.
Corsham Court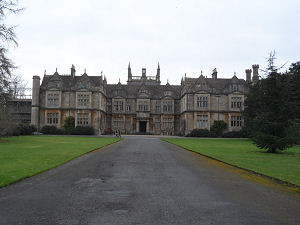 The magnificent stately home of Corsham Court is in the private ownership of the Methuen family. It was closed when we visited the town but opens to the public in the spring and summer months. The Court is well known for its impressive collection of 18th century furniture and Italian, Flemish and English Art. The collection includes work by Chippendale, Adam brothers, Van Dyck, Rosa, Rubens, Lippi, Reynolds and Romney. The house has been used as a film location for The Remains of the Day starring Sir Anthony Hopkins and Emma Thompson as well as for a television adaptation of Thomas Hardy's novel Tess of the D'Urbervilles starring Gemma Arterton and Eddie Redmayne.
The grounds and the park of Corsham Court were firstly designed by Lancelot 'Capability' Brown and then the landscape developed by the Humphry Repton and John Nash partnership. The sculpted yew bushes have developed into a large undulating cloud hedge and is an impressive feature which encloses the house and grounds on the town side.
By: Blue Badge Tour Guide - Anne Bartlett