Testimonials
Anne - thank you very much for the lovely tour for my family. We all enjoyed it so much! No matter our ages, we were all enthralled. The pace was lovely, the sites and views breathtaking and the history and context just wonderful. I would love to recommend you on Trip Advisor if you are there. (If so let me know how to find you) Otherwise please feel free to share my comments.
Kind regards
Kim Rutledge, Vice President Human Resources and Talent.
Sunpower, Austin, Texas.

Dear Anne
On behalf of all the members of our Wives Fellowship group I would like to THANK YOU for all your hard work as Programme Secretary. You have given us the best ever programme and raised the bar! You leave a very happy thriving group.

Wives Fellowship, Cheltenham
Dear Anne
Thank you so much for your interesting talk on the "Essence of the Cotswolds." It was fascinating to learn about the Cotswolds and its history. I know how much all our members enjoyed the evening and they all appreciated your wonderful slides.
Southfield WI, Cheltenham
Dear Anne
Thank you ever so much for your reading Harold Fry so wonderfully to us. Harold and all around him came alive. We could laugh, we were moved.
Thank you for explaining, informing and telling interesting facts and details and little stories.
Thank you for your assistance, kindness and friendly smiles.
We all enjoyed the tour enormously and will keep good memories.
From
Irma, Pelle, Ingrid, Ursula, Brijitte, Clara, Heidi, Lydia, Susanne, Vroni from Switzerland
Hi Anne
On behalf of our Indian friends I would like to say a very big thank you for your time, presentation and tour yesterday.
They were all very effusive about the afternoon, Tewkesbury Abbey and the scenery back to Broadway. They also appreciated getting back to Broadway at 4 - well done to you!
I would also like to add my personal thanks for all your research, preparation and interesting presentation, it was all very much appreciated and a pleasure working with you.
I would not hesitate to use your services again; in fact I have some Norwegian clients here in December so I will do my best to fit some time into their agenda.
With kind regards
Penny Bearcroft Commercial Manager International Group 4 Technology Ltd
'Thank You' card from the Restore Tour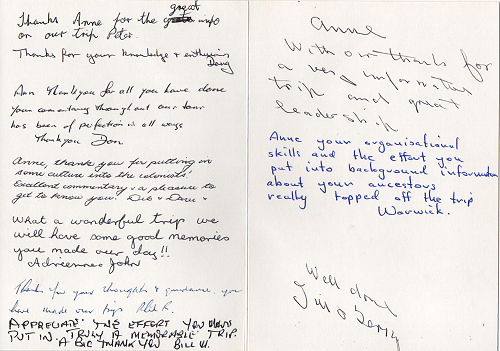 Dear Anne,
I want you to know that Laura and I were absolutely delighted with your company these past two days!
Thank you for your generosity in sharing so much knowledge and information with us.
Should you need anything from our part of the world please count on us as you would do with friends!
Hope to see you again soon. Marcio Scavone Brazil
Dear Anne
Thank you for a lovely day.
And now that I am attempting to reconstruct all that we did, I would much appreciate a simple list of villages that we visited so that I don't get it wrong in the video! Certainly, I will be in touch as we put the video programs together.
HBlumenthal@mindtv.org
Anne,
Thank you for your excellent ghostly tour. It was obvious you had done a lot of research.
I have sent an item about the ghost walk to the Voice (FSB regional magazine) mentioning you and our ghost walk.
Jonathan Moffitt Auditel, Cheltenham
Oh wow, Anne! You have provided so much fabulous information! I am truly grateful!!!
I am working on this through the weekend and it's all great.
Thank You, Susan Farewell Editor-in-Chief FarewellTravels.com
Dear Anne,
It seems like ages since I had that wonderful day with you. Thank you so much for making it superb. It was a lot of information and places to absorb in one day, but most worthwhile. It made me realize how many wonderful things there are to see and do in your area. I want to return and spend more time in those charming Cotswold villages.
Susan Cloyd
Business Development Manager @cietours.com
Hi Anne
Thanks very much for your e-mail. I spoke to Jon today and he said that they had a fantastic day.
You will be my first port of call for any future tours that we have passing this way.
Kind regards Claire Schofield Gullivers Travels
Dear Anne
Thank you so much for your wonderful guidance through the Cotswolds. It is a beautiful place and is now very special to everyone in our group. We hope you enjoy a fun token of our thanks – Georgia Tech's mascot "Buzz"
Best regards Vallee GT Travel Adventures
Dear Anne
I am writing to express my thanks for the tremendous amount of work and expertise used by you to ensure that the ladies enjoyed their day out.
I realise just how much work is involved behind the scenes to ensure the smooth running and success of such an event. Your constant refining of the route, timings and luncheon arrangements ensured its success.
I have already received letters from Provincial Grand Masters who while congratulating us on the magnificent event have been under strict orders to pass on their wives thanks and to say how much they had enjoyed the day and that was entirely due to your efforts.
Once again thank you for all your hard work.
With Kind regards Peter Marsh Provincial Grand Master of Gloucestershire
Dear Anne
Now that the dust has finally settled on our weekend in Cheltenham (one of our most successful as it turned out) I should like to thank you again for the talk you gave us on the Friday evening, which got us off to such a good start. It was exactly what we wanted for the occasion and your lovely illustrations so expertly presented added much to the evenings enjoyment.
With best wishes Geoffrey Robson The Richmond Association for the National Trust.